Santo Niño Parish
Malitbog, Southern Leyte
| | |
| --- | --- |
| | The town of Malitbog, located along the western shores of Sogod Bay came into existence in the early part of the 19th century. Two watchtowers or "baluarte," on which the numbers "1820" are inscribed, bear witness to this fact. However, there is a curious historical account as to the creation of this village. This is borne by the fact that these two "baluartes" are located not in the center of the present-day town, but in two barrios equidistant from the parish church. One is found in Brgy. Caaga to the south, and the other is in Brgy. Abgao to the north. |
According to local history, these two barangays were ruled by two rival capitanes, the names of whom have been erased from the collective memory of the townspeople. When the pueblo was later organized by the Spaniards sometime in the middle part of the 19th century, both capitanes, together with their respective villagers, vehemently refused that one or the other be made the pueblo, for each claimed to be more suited than the other. The controversy dragged on for some time. Now the word "confusing" in the Bisaya language means makalibog, and when strangers came asking for the "pueblo," people would shake their heads, point their fingers hither and thither, and say, "Makalibog." Later, with the Leyteños penchant for contracting tongue-twisting words, the place was aptly baptized "Malitbog."
This did not solve the problem of where to locate the "Pueblo," however. So the Spanish missionaries who often came to visit the two rival barangays, had the solomonic wisdom of fusing the two barangays by building a common church. Again, this proved to be another problem, because both barangays claimed that the church should be built on their grounds.
Finally, in exasperation, the Spanish friars, thundering the fear of God upon the natives, proclaimed that the church building would be built neither on the the two barangays, but on a site equally distant from the two. And it was then that in 1857, the present stone and adobe church, through forced labor, was finished to become the house of worship of all Malitboganons.

PRIESTS WHO SERVED MALITBOG PARISH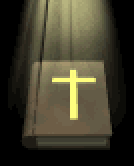 Fr. Nicolas Balagos de Lazaro 1850-1852
Fr. Tomas Barba Manuel 1852-1853
Fr. Mamerto Balo 1853-1857
Fr. Apolinario Marecampo 1857-1860
Fr. Evaristo Ayta 1860-1878
Fr. Domingo Bertulfo 1878-1879
Fr. Servano Gevane 1879-1880
Fr. Domingo Javier 1880-1899
Fr. Ruperto Guerrero 1899-1909
Fr. Hilario Lopez 1909-1912
Fr. Leoncio Faelnar 1912-1914
Fr. Sinforiano Avelino 1914-1917
Fr. Emeterio Javines 1917-1925
Fr. Pedro Morfe 1925-1929
Fr. Uldarico Villasin 1929-1931
Fr. Felix Navales 1931-1934
Fr. Narciso Codilla 1934-1939
Fr. Crispin Singson 1939-1951
Fr. Pacifico Corbete 1951-1953
Fr. Pascual Quimbo 1953-1973
Fr. Porfirio Suarez 1973-1979
Fr. Felix Paloma 1979-1986
Fr. Vicente Lora 1986-1992
Fr. Urcisino Luzon 1992-1998
Fr. Fermin Wabina 1998-present
The following priests served Malitbog on an ad interim capacity
Fr. Januario Cordovez 1921
Fr. Sabino Abrera 1926
Fr. Magdaleno Agnis 1931
Fr. Francisco Palomares 1934

RELIGIOUS ORGANIZATIONS
Birhen sa Carmen
Catholic Women's League
Caballero de San Jose
Children of Mary
Couples for Christ
Inahan sa Kanunayng Panabang
Legion of Mary
Our Lady of Lourdes
Sagrado Corazon de Jesus